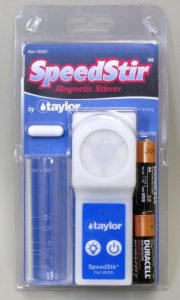 The Taylor 9265 Magnetic Stirrer Speedstir is a great addition to any pool testing kit and we're constantly getting requests to sell them. Unfortunately for a number of logistics reasons we haven't yet found a cost effective way to bring them to the Australian market. We also haven't found a reliable seller inside Australia with available stock so if you know of one let us know – [email protected]
The Taylor Speedstir is compatible with all of the Clear Choice Labs equipment. Our mixing tubes work perfectly with the Speedstir, in fact we use one ourselves.
Our mixing tubes are slightly thinner than the Taylor tubes so they fit the SpeedStir just that little bit easier. We sell magnetic stir bars that are the perfect size for all our tubes.