pH is one of the critical elements that your pool maintenance program needs to get right. Too far towards either the acidic or basic ends of the pH spectrum could cause both swimmer discomfort and damage to the pool.
The instructions on the sides of our kits are simplified reminders of the procedure for advanced users (see image below). These are the extended instructions for the rapid pH Test Kits that give you all the nitty gritty details on how to test your pool for pH levels.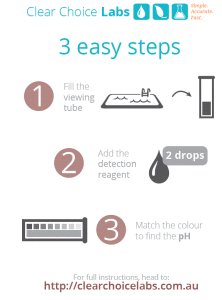 Rinse the pH viewing tube with pool water.
Fill the pH viewing tube with pool water, to the mark indicated.
Add two drops of pH Detection Reagent. Replace the lid on the reagent immediately to extend the life of your kit.
Mix the pH viewing tube thoroughly, and compare the colour to the coloured blocks on the tube to determine the pH.
Note: pH below 6.0 will read at 6.0. pH above 9.0 will read at 9.0. 
Note: Like most pH tests, the Rapid pH Test Kit will be inaccurate at high levels of free chlorine (FC). Above 10ppm of FC, the pH will read higher than true. Above 20ppm of FC, the pH will read at 9, no matter the actual level. 
Dispose of the sample safely. Do not pour the sample and chemicals back into the pool, instead pour down the sink with some running water.
Rinse the sample tube with tap water and store the kit in a cool, dark, and dry place.
Want a printable version of these instructions? We have you covered!
Download (pH_Test_Kit_Instructions.pdf, PDF, 461KB)